LOCATION, LOCATION, LOCATION — it's an adage as important in wedding planning as it is in real estate. Your venue selection helps determine everything from the size of your guest list to the overall vibe of your celebration. Equally important? Choosing the right photographer to capture and preserve the memories from your big day. Here, we ask some of metro Detroit's top wedding photographers to shed some light on their favorite venues for a picture-perfect wedding day.
---
THE PHOTOGRAPHER: Jennifer Woodward, Captured Couture
THE VENUE: Italian American Banquet & Conference Center
Since opening in 1994, the Italian American Banquet & Conference Center of Livonia has been home to thousands of memorable events for its members and the public. With roots going back to 1977 and the founding of The Italian American Club of Livonia, this 26,000-square-foot, two-level venue has perfected the art of classic hospitality. Photographer Jennifer Woodward of Captured Couture says, "I love working at the IABC because their staff is so passionate about giving my couples an amazing experience. I strive to offer my couples an experience that goes well beyond pretty pictures and I feel the IABC does too. They are always quick to communicate, they help keep the schedule on track, and if there is ever something that the wedding party (or vendors, for that matter) need, the IABC is right on top of it."
To learn more, visit iabc-livonia.com.
---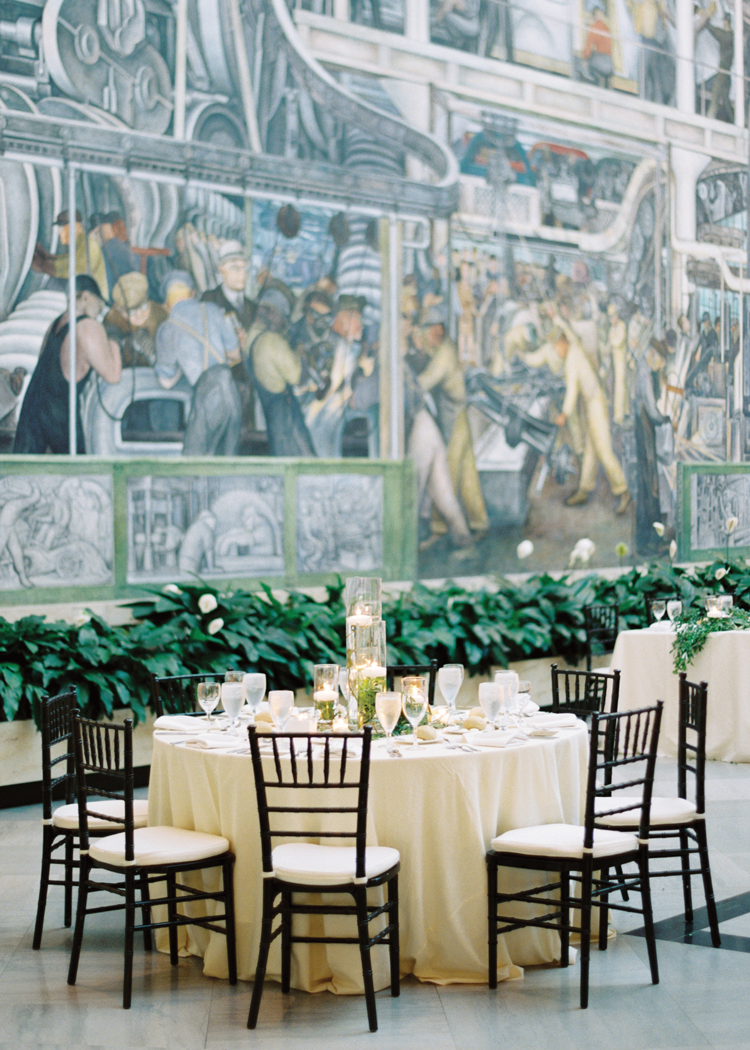 THE PHOTOGRAPHER: Blaine Siesser
THE VENUE: The Detroit Institute of Arts
Fine art photographer Blaine Siesser chose a venue as classic as his timeless wedding photography — the Detroit Institute of Arts. Located in Midtown Detroit, the museum is home to not only one of the largest and most significant art collections in the country, but also some seriously gorgeous weddings.
"One of my favorite spaces to photograph weddings in Detroit is the DIA," Siesser says. "It has one of the most beautiful exteriors in the city with a perfect color palette of marbly creams and golds and an inspiring beaux-arts architectural style.
The inside is even more gorgeous — high ceilings, amazing murals, artwork, and gorgeous shafts of natural light make stunning photos. The space flows really well for events, too. Guests will travel from the Diego Rivera Court for the vows, to Kresge Court for cocktail hour, up the gorgeous staircase to the Great Hall for dinner, and finally back into Diego Rivera Court for an epic party."
To learn more, visit dia.org.
---
THE PHOTOGRAPHER: Abby Rosenbaum, Abby Rose Photo
THE VENUE: Cranbrook
From the stunning House and Gardens to the Art Museum and Institute of Science, Cranbrook's 319-acre National Historic Landmark campus is a dream venue for local couples. For wedding photographer Abby Rosenbaum of Ann Arbor-based Abby Rose Photo and StudioStudio, it's a dream location for capturing incredibly beautiful, emotional images. "There are so many beautiful wedding venues in southeast Michigan, but Cranbrook stands out as truly special," Rosenbaum says. "The grounds offer so many incredible backdrops for a celebration. There are manicured gardens, reflecting pools, wooded paths, and beautiful architecture. It's rare to find a venue that offers such diversity. I never tire of photographing events there."
To learn more, visit cranbrook.edu.
---
THE PHOTOGRAPHER: Alora Rachelle, Alora Rachelle Photography
THE VENUE: Shinola Hotel
Since opening its doors in January 2019, the Shinola Hotel in downtown Detroit has become a fast favorite with local couples and wedding photographers alike. "The Shinola Hotel hands down is my favorite hotel in Detroit," says Alora Rachelle of Alora Rachelle Photography. "Every single time I walk into the hotel, I am speechless. As a photographer I am attracted to the intricate architecture and the color palette of brown, earthy tones mixed with the blue and other vibrant colors. The unique art pieces designed by Detroit students make it feel even more welcoming. My husband and I stayed at the Shinola for my birthday and it was such an aesthetically luxurious experience. Everyone should stay at least once."
To learn more, visit shinolahotel.com.
---
THE PHOTOGRAPHER: Lindsey Billings, The Billings Photography
THE VENUE: Zingerman's Cornman Farms
For Lindsey Billings, one half of the husband-and-wife duo behind The Billings Photography, nothing beats the rolling hills of Zingerman's Cornman Farms, an idyllic 27-acre farm located in Dexter just minutes from downtown Ann Arbor. "We absolutely love shooting there," Billings says. "There is something truly special about the venue that allows guests to relax and enjoy the day. I've shot in rain and sun there and truly there is no better place to start your union together. I love that there is ample room to allow guests to stroll around the farm but also the barn and tent to keep them contained when needed. The best part of the venue, I believe, is the diverse options you have for your ceremony and reception. You could keep it al fresco, under a tent, or in the barn. There are quite a few options that allow you to truly customize your experience. Another added bonus is that you are able to take full advantage of natural sunlight and sunsets. There are rolling hills that the sun sets behind and it's just gorgeous."
To learn more, visit zingermanscornmanfarms.com.
---
THE PHOTOGRAPHER: Stefanie Russo, Stefanie Russo Photography
THE VENUE: Royal Park Hotel
The timeless elegance of the Belgium Glass Conservatory at the Royal Park Hotel in Rochester is Stefanie Russo's top choice for wedding photography. "It is so beautiful," Russo says. "You are surrounded by glass, so you get amazing lighting during ceremonies and receptions. The weddings are smaller and more intimate in the Conservatory because of its size. You can get away with decorating however you want because it's a neutral palette. I've had a bride do tall white floral arrangements, and I've also had a bride do modern and minimal. No matter what you do, it's going to be beautiful. The grounds at the hotel are pretty amazing as well and give couples a bunch of photo opportunities. If you have a wedding in the Conservatory, you get access to the garden right outside. I love taking my couples in there for their portraits. Another added bonus is that you get to have your wedding at a hotel. It's basically all inclusive. Couples can get ready there before their event and guests get to stay the night and not have to worry about finding a safe ride home."
To learn more, visit royalparkhotel.net.