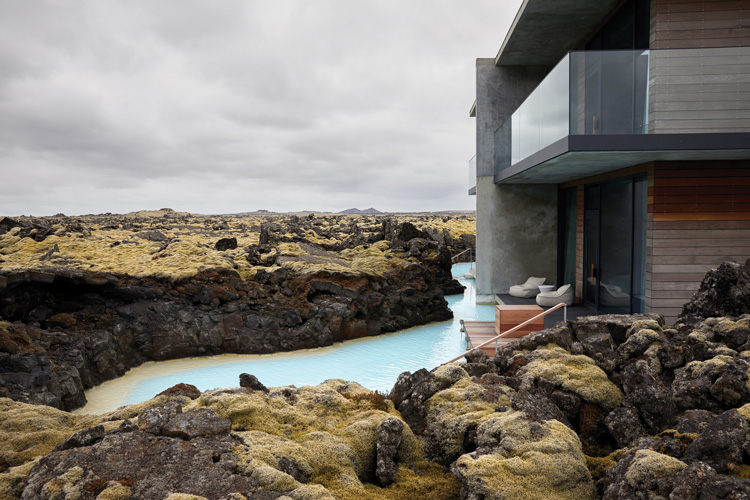 Gone are the days of pina coladas on the beach. In 2023, magical places that marry wholly different cultures with exquisite cuisine and adventures are a must for newlyweds. Here are six that will have you checking destinations off your bucket list.
---
Iceland
With a short six-hour flight from Detroit, it's not surprising that Iceland has quickly become a top destination for newlyweds. This idyllic country features just the right mix of adventure and romance, not to mention culture and cuisine. Start with two days in Reykjavik, the country's capital and largest city, where you'll want to walk or bike Laugarvegur, the city's main shopping district that's chockfull of luxury storefronts and boutiques. Be sure to check out the Hallgrímskirkja, a stunning, contemporary church inspired by Icelandic traditions, and at night take a tour to see the Northern Lights from downtown. After a long day touring the city, lay your head at Reykjavik Edition. This luxury hotel is centrally located to everything in Reykjavik and boasts a modern aesthetic with a Nordic twist.
Then it's time to hit the road for three to four days popping in and out of towns via Ring Road. The Blue Lagoon is one of Iceland's most popular and picturesque attractions and can best be seen with a stay at The Retreat at Blue Lagoon. The backdrop of the black lava on Reykjanes Peninsula coupled with the cobalt blue steaming water makes the trip Instagram-worthy. Along the drive on Ring Road, adventure awaits with quick hikes to two noteworthy waterfalls, Seljalandsfoss and Skogafoss. No matter how you see the country — by car, foot, ATV, helicopter, or even horseback — Iceland boasts a plethora of adventure options.
---
Mallorca
Couples who crave a bit of sand and sun but with a dose of rich culture and history, too, will want to add Mallorca to their honeymoon list. As one of Spain's Balearic islands, Mallorca offers crystal clear blue water with the stunning backdrop of boat-lined marinas, limestone mountains, and beautiful villas dotting the white sand shoreline. What it lacks in the quietness you might find on a Caribbean island, it makes up for in its Spanish architecture, wineries, and impressive upscale Mediterranean cuisine. Mallorca truly offers a little bit of everything, from charming mountain villages with quaint cafes and shops to dynamic nightlife.
One day touring Palma is a must with its Mallorcan fortresses and stunning gothic cathedrals. Stop by the Moorish Almudaina royal palace and 13th-century Santa María Cathedral, both iconic landmarks. A must is lunch or dinner at El Camino, where outstanding tapas and fresh-caught seafood abound. For adventure lovers, Soller offers biking and hiking to the tops of pine-clad mountains high above the turquoise blue ocean. But a visit to Mallorca wouldn't be complete without getting out on the water. Seeing the island by boat allows you to take in the scenery that would otherwise be missed sitting on the beach.
There are plenty of accommodations to choose from in Mallorca, but Belmond's La Residencia should be on the short list. A brief 45-minute drive from Palma, La Residencia is easily one of Mallorca's most elegant properties. Nestled in the rocky hillside town of Deia, the hotel consists of several separate dwellings that seamlessly blend together, allowing guests to roam the property as if it's their own private estate.
---
New Zealand
Too often New Zealand is overlooked for nearby Australia. But it should be the top of honeymooners' lists with its stunning scenery of snow-capped mountains against rolling farmlands, abundant adventure options, and amazing wine offerings. Known for its dramatic landscape, which ranges from the subtropical beaches of the North Island to the glaciers and fiords of the Southern Alps, New Zealand has no shortage of adventure. Thrill-seeking couples can try their hand at bungee jumping and heli-fishing one day and lay low the next with a beach hike or game of golf.
To save time, you'll want to choose between the North and South Island, with both offering a bit more of what couples want on a honeymoon: wine tasting, golf outings, hiking, fishing, ATVing, and more. On the North Island, a stay at Relais & Chateaux property Cape Kidnappers offers the best of New Zealand all in one place. Situated atop a grassy cliff overlooking crystal clear blue water, the property features rustic-inspired accommodations coupled with impeccable cuisine and world-class golf.
The New Zealand landscape is oftentimes best explored off road, so a Can Am tour through rugged terrain or a helicopter tour over the heart of Hawk's Bay and Kaimanaw Forest Park with expansive views of Mt. Ruapehu's crater lake is an outstanding way to take in the back country.
One last stop on the trip, though, has to be to Marlborough, the heart of New Zealand's wine country. This breathtaking landscape is the exact place you'll want to unwind after all of the adventures on the first leg of the honeymoon.
---
South Africa
While it does take more than 16 hours to get to South Africa from Detroit, consider the long flight well worth it. South Africa should not only be on couples' bucket lists, it should be boldfaced and underlined as the ultimate destination. The country features some of the most diverse landscapes in the world, from sandy white beaches where the crystal blue waves of the Atlantic and Indian oceans crash along the rocky moss-covered cliffs to arid deserts and valleys covered in vines.
There's no shortage of things to do here, which means the country checks off all the boxes for all types of travelers, from foodies and adventure lovers to culture buffs and fashionistas. Pepper in a couple of days in Johannesburg to start. The capital city is considered the heart of the country and is chockfull of museums such as the Apartheid Museum, which provides an important look into the country's apartheid history.
Then head via plane two hours to Cape Town where the honeymoon really begins. South Africa's wildlife is not to be missed, and the best way to see it is by booking a trip with luxury travel operator &Beyond. &Beyond runs KwaZulu-Natal's Phinda Private Game Reserve, which features seven rich ecosystems, including a sand forest, savannahs, wetlands, and mountain bush. Elephants, rhinos, lions, leopards, and buffalos are all living freely, and &Beyond brings you up close to all of them with their luxury accommodations coupled with tours throughout the countryside and reserves.
There's so much to see and do in South Africa, but be sure to take time to visit some of its wineries as they're some of the best in the world. Stellenbosch and Franschhoek, also known as Cape Winelands, is a 45-minute drive from Cape Town and well worth the trek. It features hundreds of wineries with tasting rooms, restaurants, and day spas perfect for making honeymoon memories.
---
Croatia
Twenty years ago, Croatia may not have made the top 50 honeymoon destinations. Today, though, this historic European country has become immensely popular with its gorgeous coastal cities along the Adriatic Sea, world-class dining options, rich history for culture buffs, and idyllic pastoral landscapes.
A visit to the country would not be complete without staying a few nights in the capital city of Dubrovnik, which  means "pearl of the Adriatic" and it more than lives up to its name. This coastal city is one of the Mediterranean's top destinations (so it may not be the best option during the summer when it's booming with tourists) for good reason: it's the perfect coupling of white sand beaches, turquoise blue water, and palm trees with a rich culture scene and impressive history. One day touring the city should include walking the Walls of Dubrovnik and exploring old town. There, walk through a small "hole" in the ancient  city walls to Buza, a bar atop the cliffs overlooking the Adriatic Sea. If possible, get out on the water and see the rich geography and picturesque architecture. Book a stay at Sun Gardens Dubrovnik. This luxury ocean-front hotel feels more like an intimate boutique property on a remote island in the Mediterranean, but it's also in proximity to the culture, history and nightlife that Dubrovnik offers.
But there's more to Croatia than Dubrovnik. With more than 1,200 islands and many off-the-radar quaint towns, there's a plethora of places to see while there. One of the best destinations is Zagreb, a small town boasting impressive arts and architecture, not to mention an array of charming cafes and storefronts.
---
The Maldives
There's a reason the Prince and Princess of Wales head to the Maldives for romantic getaways. This wildly private country consisting of approximately 1,200 small coral islands offers the exclusivity and privacy some couples yearn for. If it's an escape from reality and relaxation you want, the Maldives is the perfect honeymoon spot. With possibly the whitest sand beaches in the world coupled with standalone luxury bungalows over the bluest ocean, there's no shortage of wow factor here.
Getting out on or in the ocean is a must when exploring the Maldives. Scuba diving or snorkeling three of the country's most beautiful reefs is the best way to see it all. Bana Reef is one of the most popular reefs and features some of the most exotic and beautiful ocean life in the world. Colorful Palette Surgeonfish (aka Dory from Finding Dory) and giant squirrelfish swim alongside breathtaking coral that you just can't find in the U.S.
There's plenty of luxury accommodations in the Maldives, especially if the privacy of an over-the-water bungalow is on your short list of honeymoon must haves. Kothaifaur Maldives offers the option of a beachfront villa or more than 30 over-the-water accommodations. The modern aesthetic results in a luxurious yet casual vibe where you can indulge in fantastic local cuisine without ever having to leave
the property.
---