AJAY GOKHALE AND KEERTHANA Sankar met at a mutual friend's birthday party, the summer before they both started their freshman year at the University of Michigan. They kept in touch and started the fall semester as friends, however — after just one month — they were dating. "We both just had these similar personalities," Gokhale says. "We were both outgoing and friendly, and we were quickly, almost instinctively, able to put trust in each other."
College was a transformative, although difficult, time for both of them — but it drew them together, not apart. Gokhale, now 26, is the logical one, calm, collected, thorough, "always knows the next step," says Sankar, "whereas I tend to go with my gut." They say they both provided the perspective that the other lacked during those crucial young adult years. "We were still figuring out what we wanted to do in life," says Sankar, now 25, who is in her last year of medical school. "But we helped each other discover our passions."
Post-graduate life offered a new challenge: Long-distance. Gokhale took a job at Google in the San Francisco Bay Area, while Sankar pursued medicine in Detroit. "We had to figure out, 'How do we support each other from across the country?' It almost tested the foundation we built in college," Gokhale says. "That has been what really kept us together. We can really lean on each other."
Since Ann Arbor was where they met and fell in love before embarking on the long-distance leg of their relationship, it was the natural place for Gokhale to propose. He considered Detroit, where Sankar is in med school. "But I just kept getting pulled back to Ann Arbor," he says. "It was the most formative time for us."
The couple had discussed marriage plenty. "After four years, we knew we had found our person," Sankar says. She knew Gokhale was planning to propose, but she just didn't know when or how. "We did a bit of funny reverse situation," he says. "My family told Keerthana we were actually doing a surprise party for my younger sister, and it was her job to get her to the Law Quad (on U-M's campus)."
Gokhale's sister dutifully requested getting her nails done "for her birthday" at a salon in Detroit while the scene was being set in Ann Arbor. This also meant Sankar's finger was all set for the ring they'd designed together in Napa, California — an original, complete with henna and other design elements in an ode to their Indian heritage.
As she made her way into the Law Quad for the surprise, it took her a moment to realize Gokhale was the mystery person standing beneath the beautiful draped arch at its center (wedding and elopement designer Francisca H. Berry created the installation). "There is this long walkway to the middle of the Law Quad, so it felt like I was walking down the aisle," she says, as realization dawned. "But I was super-confused at first. I thought Ajay was arriving on a flight the next weekend; he had sent me a fake confirmation email."
The setup made for a better surprise, and some authentic emotion captured by local photographer Nate Johnston of J&N Studios. Both were crying as Gokhale presented Sankar with a cork photo album, lined with gold foil. "There were pictures from when we had met, all the way to now," Sankar says. "The last page of the album had the ring taped on with string. I cut the string to loosen the ring, and he proposed."
Gokhale and Sankar will tie the knot May 31, 2020 at Shenandoah Country Club in West Bloomfield, in "a big Indian wedding" that will include more than 500 guests. They're not too far along in planning yet. "We set the venue and the date, and now we have to get to invites next, and then the food and decorations, and so on," Sankar says.
But right now, they're just enjoying the post-engagement moment and looking forward to their future — crystallizing a certainty they both felt about each other right from the start. "It's what fuels the challenge of long distance for us: We can get through this and eventually be in the same city," Sankar says. "The last however many years, we have different lives, different friends, different cities. We'll finally be merging that together, and that will be the most exciting thing."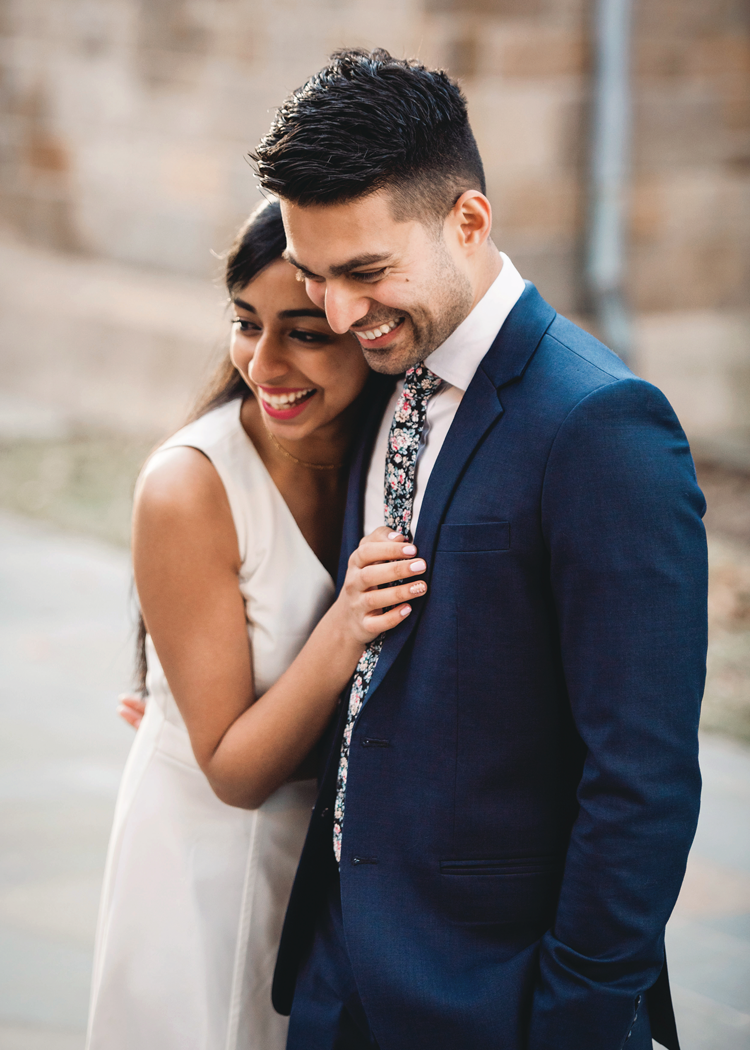 ---
Want to share your proposal? Send your story to rvoigt@hour-media.com for your chance to be featured in a future issue.