IN THE MOMENT: that's where Sarah Nisbett thrives. As the artist and founder behind Drawn On Your Day, Nisbett documents and captures the spirit and beauty of your wedding through a series of illustrations done in real time. The record she creates is incomparable. As she sketches and paints her way through your event, Nisbett translates the energy and emotion of the people and the space into precious hand-drawn artwork.
"When you make something in the moment, that moment becomes a part of that work of art. The sound. The feeling. The emotions. Everything is in those lines," says Nisbett, a self-taught artist and former opera singer. "And I think people feel that. I think that's what makes it different and special because it's made while it's happening. It's a piece of art that represents a fleeting moment of time."
Ten years ago, Nisbett, who splits her time between New York City and Ann Arbor, began sketching while on the subway. "I was just bored and I didn't want to look at a screen so I looked around the train and I thought I'd draw something. I had always been a doodler but was very certain I could not draw from life." An older gentleman sitting across from her became her first subject and "there really has not been a day since that I haven't drawn something from life," Nisbett says. Her in-the-moment portraits led to the launch of Drawn On The Way, a live daily illustration project that is the predecessor and sister brand to Drawn On Your Day, Nisbett's recently launched wedding service.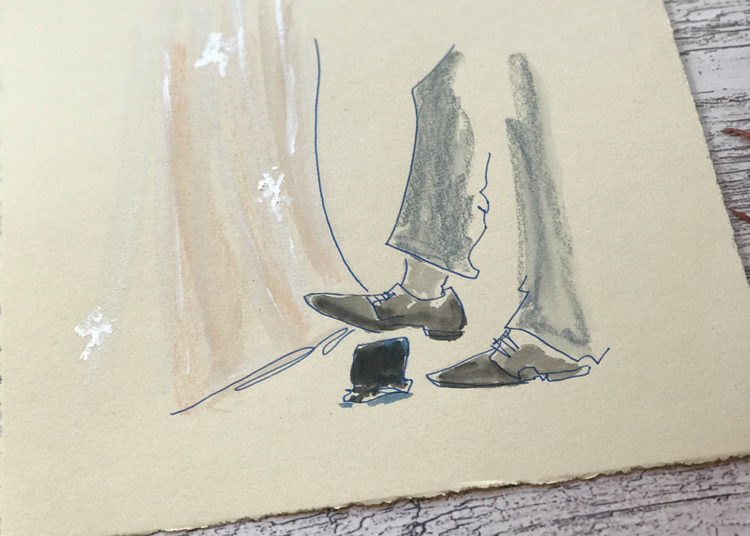 Drawn On Your Day began last summer after Nisbett received an inquiry from a groom who asked if she could chronicle his wedding. With a completely mobile art station, Nisbett is able to freely roam a room using watercolors, gouache and ink to illustrate the day's memories. "It was a dream assignment for me because everywhere I go, I always have my sketchbook with me and I'm always looking for cool little moments to sketch and capture.
"From there, I was like, 'This is something really special … it combines all the things I want to do,' " Nisbett says. "It combines making art in the moment and it has an emotional story telling aspect to it. I'm not just there to draw the bride and that's it. I'm looking for moments where I feel like something about the people or experience is being expressed, and I can capture that … and at the end, the bride and groom get this amazing memento in a totally different format."
For more information, visit drawnonyourday.com, and for additional information on Sarah's daily live illustration project, check out drawnontheway.com.