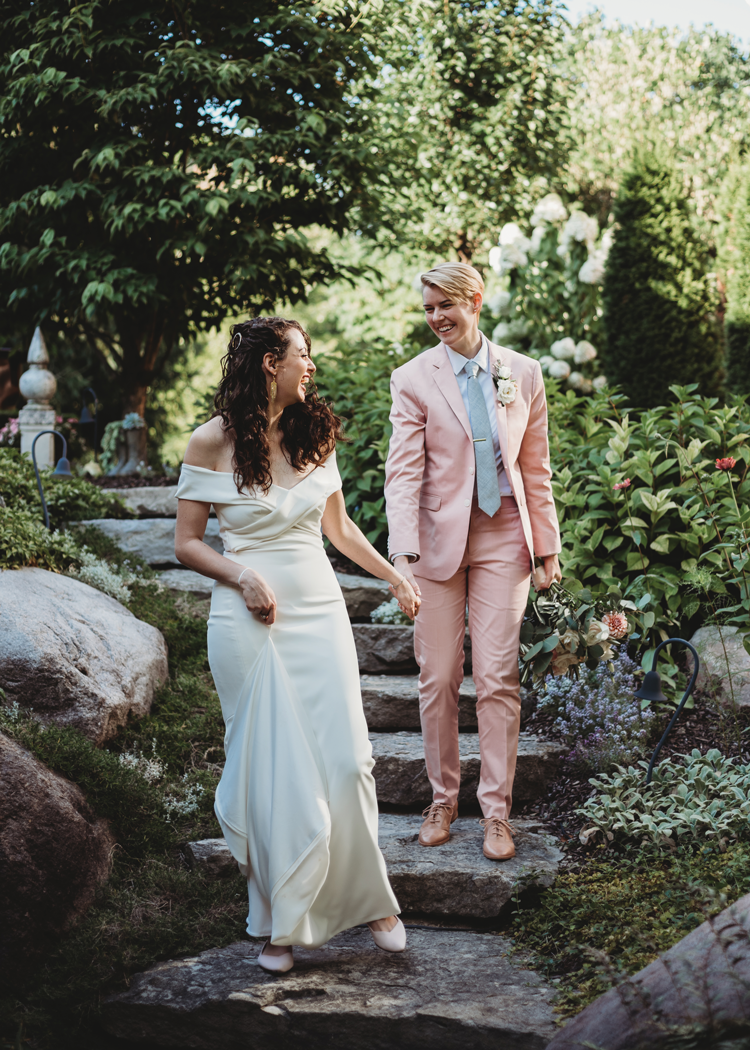 CORINNE ROCKOFF and Alicia Basin had their wedding planned more than a year in advance: They were to be married in Detroit on August 22, 2020 in a large, celebratory affair. Family and friends would fly in from all over the country. By January 2020 all the plans were set and all there was left to do was wait for their big day.
The now Ferndale-based couple met in 2016 when Basin was visiting a mutual friend in Washington, D.C. Rockoff, a lawyer, went to law school at George Washington University and became friends with one of Basin's sorority sisters. After six months of long-distance dating, Basin, a therapist, relocated to D.C. Then, in the summer of 2018, the couple planned to move to Basin's home state of Michigan. The day before they left, Basin proposed to Rockoff.
"I wanted the engagement to be something Corinne would always remember," Basin says. "I decided we'd get Starbucks and watch the sun rise from the Tidal Basin, where you can see all of the monuments. It was something we did when we first moved to D.C."
A few months later, Rockoff also proposed to Basin at the Detroit Institute of Arts — the site of their first date — and followed it with a surprise engagement party.
The couple didn't visit many venues before settling on the Colony Club in Detroit for the reception. "It had all of With their big wedding postponed because of the pandemic, Corinne Rockoff and Alicia Basin decided to host an intimate backyard celebration instead. the aspects we love about Detroit," says Rockoff, who is originally from Los Angeles. "It's vintage with modern elements — it doesn't feel museum-ified. Also, it used to be a women's club, which seemed appropriate for us."
Basin's one request was an outdoor ceremony, but the outdoor venue they had booked, 900 Tower + Terrace in Eastern Market, gave them a refund in November 2019, saying they no longer hosted weddings. They then booked the ceremony at the Colony Club, too, and gave up the idea of it being outdoors.
Everything else was smooth sailing: they had their vendors, guest list, wedding outfits. But in March 2020, the World Health Organization declared COVID-19 a pandemic. At the end of May as the virus continued to spread, they called the wedding off.
"At first, we were both very upset," Basin says. "This was one big event we were looking forward to. It was pretty stressful. But when we developed a new plan, it became exciting — we'd have twice the weddings."
They moved the wedding date to May 2021 at the Colony Club but also decided to go-ahead with an intimate backyard ceremony at Basin's childhood home in Shelby Township on their original date in August.
"Alicia's mom had been saying for ages that she wished one of her kids would get married in the backyard," Rockoff says. "She's an intense gardener and it basically looks like a gorgeous park. It was perfect."
The guest list was condensed to immediate family and the wedding party. Everyone was tested for COVID-19 in advance, and small tables of two were arranged to adhere to social distancing recommendations. All of their vendors were also available — they just had to hire a caterer, as the Colony Club did not provide outside catering. They chose Fresh Chef Detroit, which specializes in private dinner parties.
Rockoff and Basin bought different ensembles for the affair: Basin found a blush suit online at Express, and Rockoff scored a sleek, off-the-shoulder dress from BHLDN. "The dress I'm wearing at the Colony Club is a big, fluffy, Glinda the Good Witch dress, so I chose a minimalist dress for the small wedding — which is more in line with how I dress in my everyday life," Rockoff says.
To link the weddings, their videographer will do a supercut of the two ceremonies. Rockoff and Basin also created time capsules for the small ceremony: they each put three items into boxes, signifying the past, present, and future, and they'll open them at the big wedding in May.
"We feel so lucky," Rockoff says. "Most people only get to do this once, but we were able to have the sampler platter of wedding options. Small and big. Cupcake dress and sleek dress. And, in the end, Alicia got the outdoor ceremony she had always wanted."