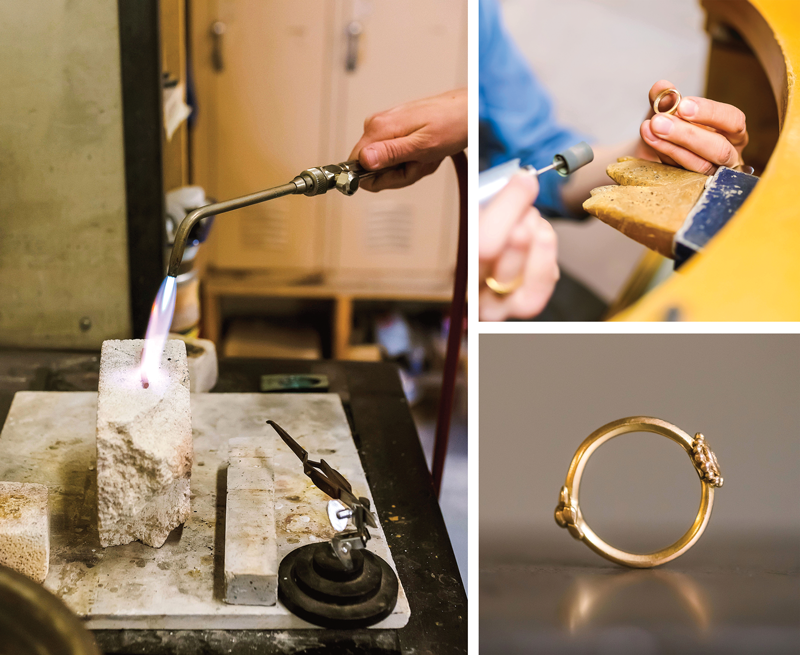 ---
Band Together
"MAKING YOUR OWN wedding bands is so special," Amy Weiks says. She and her husband, Gabriel Craig, are metalsmiths, and they made each other's rings. Now, they teach a two-day couple's wedding band workshop at their studio, the Smith Shop, through Detroit's Center for Craft and Applied Arts. "It gives people a nice reason to learn how to make jewelry," Weiks says. Before the introductory class begins, Weiks and Craig help students select their metal of choice and discuss design ideas, like whether to opt for texturized bands or to stamp them with initials, dates, or meaningful phrases. Based on the consultation, the duo then orders materials from a certified recycled metal refiner in Virginia. The first day, couples make practice rings out of brass; the second day, the real bands are created. Not only do couples leave with their custom creations, but a lasting memory of crafting them together, as well.
For more information, visit ccaadetroit.org.
---
Camera, Action!
In lieu of hiring a traditional videographer, Farmington Hills-based Wedit  offers an alternative that may reduce your wedding budget. For $374, you'll receive five HD cameras in the mail, one week before the main event. Hand them over to guests or anyone you trust to take video footage of your wedding. The best part, perhaps, is that the week-long rental allows you to capture special events surrounding the wedding, like the rehearsal dinner, after-party, and morning-after brunch. Couples can then edit their own videos, or, for an additional cost, tap Wedit's professional team to create a highlight reel or full-length, 60-minute video. P.S.: Because they understand that wedding planning can be chaotic, Wedit generously accommodates last-minute requests.
For more information, visit wedit.com.
---
Suit Up
Grooms interested in investing in a high-quality suit can head to Birmingham's Claymore Shop. The dapper men's boutique lines its shelves with a wide range of offerings, from navy blue seersucker tuxedos to three-piece, bespoke suits complete with a tie and pocket square to complement the bridal party's color scheme.
For more information, visit claymoreshop.com.
---
Hair Care
The buzzed-about blow-dry bar, Detroit Blows, has introduced a bridal menu. Brides can now bring their bridal party to the swanky salon for a hair and makeup session, or the blowout bar's top stylists and makeup artists will venture to your wedding venue, making the getting-ready process that much easier.
Guys, on the other hand, can take their groomsmen to Detroit Barber Co. for cuts, hot shaves, and snacks to prep for the big day. (They've even been known to shut down the store for a large party.)
For more information, visit detroitblows.com and detroitbarbers.com.
---
Thoughtful Favors
Whether for your bridal shower or wedding, treat guests to custom, handmade soaps or mini spa gift sets from The Little Flower Soap Co. The Chelsea-based husband-and-wife team, Holly and Justin Rutt, works out of a barn-turned-studio on two acres of a lavender farm. The couple creates natural bath and body products like essential oil-based lip balms, bath salts, and even beard kits for groomsmen. They'll also customize packaging with wrapping, monograms, ribbons, and phrases to complement your place settings and wedding décor.
For pricing and more information, visit littleflowersoap.com.
---
Happy as Pie
Not a big cake person? Serve wedding pies. Sister Pie's event menu allows couples to order up to four flavors of nine-inch pies. Couples can of course choose from perennial offerings like salted maple, coconut, and toasted marshmallow butterscotch. But the cult-favorite West Village pie shop also has seasonal flavors made with local ingredients. Rhubarb Rosemary Streusel or Strawberry Pistachio Crumble are available for June weddings, and in August, you can expect Ginger Peach and Blueberry Lemon Thyme to hit the menu. In October, dig into Apple Cheddar Rye or Sweet Potato Coconut. A caution to couples tempted to plan their wedding date around the most intriguing flavors — options may vary according to local produce availability.
For pricing and more information, visit sisterpie.com.
---
New Flames
Anyone who has smelled the candles from Detroit Rose can attest that their intoxicating fragrances instantly add to the ambiance of a room. Hand-poured into a glass jar, the minimalist soy candles look chic perched on any table or shelf. Light a comforting scent to unwind after a long day or purchase them as gifts — especially for very dedicated bridesmaids. Detroit Rose offers a variety of scents like lavender, neroli, sage, sea salt, and more. You'll be sure to find a note to suit yourself and each of your girls.
$28 each, detroitrose.com.